About Us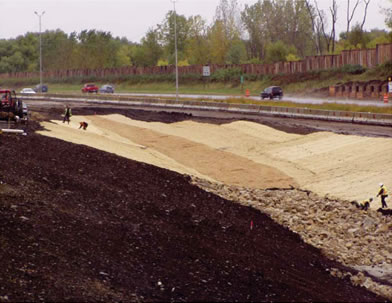 Ero-Guard was founded on the basis of bringing the highest quality and service to the rolled erosion control product (RECP) industry. With the most advanced manufacturing equipment we are able to manufacture a complete line of RECP's that include straw, excelsior, straw/coconut fiber blends, 100% pure coconut fiber and synthetic turf reinforcement mats (TRM). What does this all add up to? It equates to a full service manufacturer that brings you service, quality, and integrity!
Why We Use Erosion Blankets?
Erosion has been a problem since the beginning of time, shorelines degraded, topsoil lost, and hillsides washed away. It has not been till recent history that our population has recognized the extreme devastation that erosion creates. Due to this realization, the U.S. Environmental Protection agency created Phase II of the National Pollutant Discharge Elimination System (NPDES), to help with the erosion and sediment control in America.